Bella's Pups
Here are photos of Bella's First Litter. Clicking on a picture will bring up a larger view. The litter was whelped on Sunday Oct 8th 2006. Bella is registered as Brush Hills Bellisimo. The Sire is Ch. Hi-Techs Basic Edition (Derek).
Prior to Breeding, both Bella and Derek have passed the heart testing (echo cardiogram and holter monitor) and have normal thyriod levels (testing was performed by the University of Michigan).
At day 13, we selected names, after all, we need a way to call them. Their call names (and registered names) may later be changed. we are just trying them on for size.
The large male we call Marley Henry.
His registered name is: "Mahogany's Island Time"
The smaller male, we call Scout Knuckles. He is always roaming around and cannot keep still. He was the first one to start walking. His registered name is: "Mahogany's All of the Time". Knuckles moved in with his new family Dec 8th.
The female with the white triangle on the back of the neck is Jenny. Her registered name will is: "Mahogany's First Mate"
The female with the white spot on the back of the neck is Abbey. Her registered name is: "Mahogany's It's About Time"
The female with the partial collar is Molly. Her registered name is: "Mahogany's Mi Own Sweet Time".
Bella, one week before due date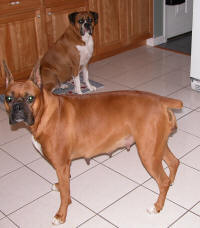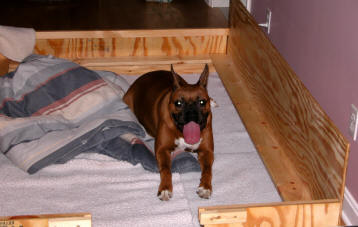 Bella, anxiously waiting for her pups
---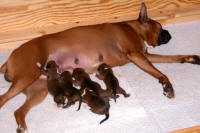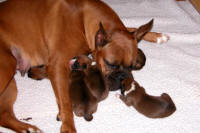 Bella, taking care of her pups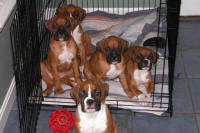 The whole gang

The Gang in motion. All play, all the time.

Jenny, Abbey and Henry

Knuckles asks Molly: What's up sis?

Motherhood is very tiring
Jo finds Being a Nanny is also tiring.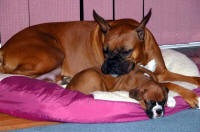 Mom & Abbey
This is either Mom and Daughter bonding, or Mom trying to hold Abbey Still for 5 minutes.
At the 6 week mark, they are starting to run, jump and terrorize each other.

Henry and Knuckles sleeping.
Sometimes brothers can get along.

Hello from the group - 4 wks

Dinner for 4
At 4 weeks, Bella asked us to start weaning the puppies. They all have started to have their teeth come in. This is the first group meal.

Knuckles and Henry getting a jump on dinner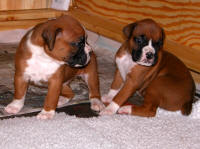 Molly and Jenny - at 4 wks
At 4 weeks, they are starting to get their own personalities. The 3 girls are completly different from each other. Molly is independent, Abbey is very social and loving and Jenny is calm easy going.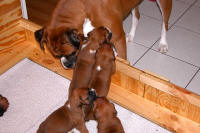 Jo checking out the pups
Jo is our original 4-1/2 yr old female. She raised Bella and is helping Bella with her pups. Her task is to teach them how to play, she is very good at it.
Knuckles (resting his head on Jenny), Jenny and Abbey

Another Group Photo (@ day 13)

(Day 8)

The Gang posing for a group photo